Templates are an important part of this wiki. Before adding new pages, you should know how to manage a template.
Infoboxes
Edit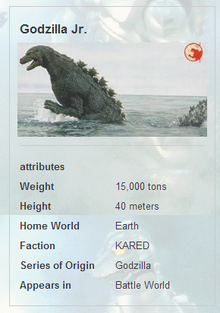 Easily the most important templates, infoboxes are simply to add yet can be challenging in the new visual editor. Unless you know the template you are using, it is advisable to use the classic editor.
This wiki has three infobox templates.
InstructionsEdit
Under the edit drop down menu, select classic editor. One the side, you should see three sections, one for media, one for categories and one for templates. Under the template section, click "add other templates.
Type the name of the infobox you want to use. (KARED for KARED member pages. Ultra for Ultramen and Kaiju for monsters). Then click "insert."
A large box will come up. Fill in the forms.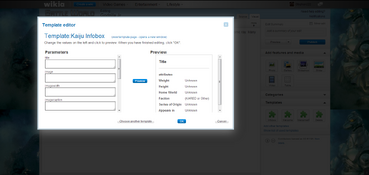 Title = name
Faction = KARED or Antagonist
Once the form is completed, click OK. Then you may publish it.
Q: The form calls for height or weight. How can I find this information?
A: Wikizilla and the Ultraman Wiki have the height and weight for most monsters/Ultramen. Toho Kingdom is also used as a resource for monsters that aren't on Wikizilla.
Q: This alien monster doesn't have any known home world. What should I do?
A: Put Unknown in the box, or add a home planet in the story! The Battle World multiverse does not have to be canon to any other series.
Ad blocker interference detected!
Wikia is a free-to-use site that makes money from advertising. We have a modified experience for viewers using ad blockers

Wikia is not accessible if you've made further modifications. Remove the custom ad blocker rule(s) and the page will load as expected.