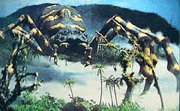 Kumonga
 (クモンガ, 
Kumonga
) is a giant spider. According to the journal of the now deceased Dr. Matsumia, Kumonga was a type of very large spider to dwell in the jungle of Sogellel Island. However, exposure to the radioactive storm created by the UN's failed weather experiment transformed Kumonga into a 45-meter tall monster. 
Kumonga can shoot a thick webbing and a stinger from his mandibles. Kumonga has prehensile pedipalps that can be used to grab small prey. He is able to survive multiple hits from Godzilla's atomic ray.
Ad blocker interference detected!
Wikia is a free-to-use site that makes money from advertising. We have a modified experience for viewers using ad blockers

Wikia is not accessible if you've made further modifications. Remove the custom ad blocker rule(s) and the page will load as expected.