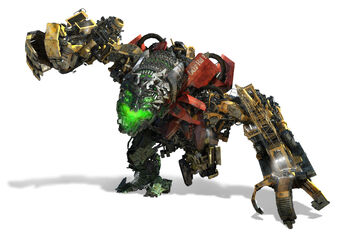 Once several Cybertronians, known as the Constructicons, upon their rival, they were left merged in their gestalt form, Devastator.
Personality
Edit
Devastator has no real personality, he is mainly a tamed beast, his master being Megatron, the Fallen and anyone with a strong enough will and power to command him.
Weapons and Abilities
Edit
Vortex Grinder: Devastator can generate a Micro singularity in his throat, sucking in everything front of him to be grind up by maw. Despite his use, is originally intended for digging.
Strength: Due to his size, he is very powerful, his armor is also more durable.
He is the only Transformer who cannot transform.
Ad blocker interference detected!
Wikia is a free-to-use site that makes money from advertising. We have a modified experience for viewers using ad blockers

Wikia is not accessible if you've made further modifications. Remove the custom ad blocker rule(s) and the page will load as expected.