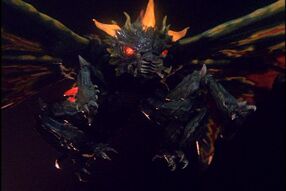 Battra
is a giant moth, similar to
Mothra
. She is allied to
Malimors
. When Malimors said "release the air force," Battra was one of the attackers. She attacked Godzilla JR, However, Malimors ordered her to go to NYC before she could do any real harm. 
These are Battra's powers.
In his larval form, Battra can be a horribly brutal opponent who was relentless and remorseless in its attack. In this form, he wielded a massive yellow horn which could be put to use as a battering ram or bludgeoning weapon. From the horn, he was also capable of firing off furious electrical blasts of an orange-yellow color. He could fire similar electrical blasts of a purple color from his crimson eyes. However, these beams would often fly wildly about, Battra not appearing to have precise control over their direction. The titanic larva could also create energy pulses from his massive horn as another form of attack.
In its imago form, Battra had lost the ability to burrow or swim, but attained flight with its new wings, allowing for easier and more efficient travel for further destruction. The once prominent horn had disappeared and had been replaced with three smaller horns. These horns were incapable of releasing energy anymore, but Battra had developed more powerful optic beams, known as "Prism" beams. Unlike the beams used in his larval form, adult Battra had complete control over the Prism Beams, which also are far more powerful in this form. He also had developed three pairs of legs and would utilize them for grasping objects. The imago form of Battra could also release an "energy shock" from its feet in order to subdue foes while in close combat. he can emit energy spears from his body as well.